Chuck Connerly's vision for a 21st century urban and regional planning program is something more than simply functioning as an academic department.
When Connerly was named director of the University of Iowa School of Urban and Regional Planning in August 2008, he emphasized the importance of community outreach in the graduate students' education.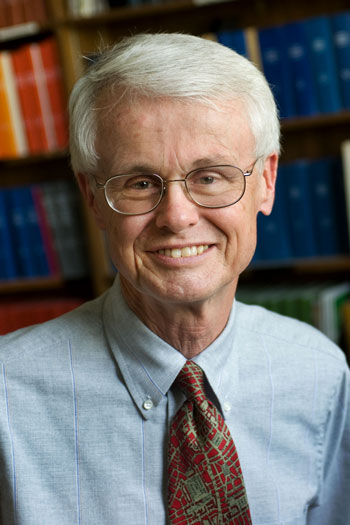 In 2009, the school launched the Iowa Initiative for Sustainable Communities (IISC). The IISC's purpose is to enhance the capacity of towns, cities, and counties in Iowa, as well as elsewhere in the Midwest, to become better sustainable communities by meeting their social, economic, and environmental needs without compromising the ability of future generations to meet their needs.
For example, the school offers a yearlong course in field problems and planning, dispatching second-year master's degree students to serve as consultants to city administrators in Iowa towns. Under faculty supervision, the students work with the municipalities to address the community's respective needs in the areas of economics, the environment, equity, and energy.
UI graduate students have worked with seven Iowa towns in the last two years (Decorah, Anamosa, Columbus Junction, Wellman, Burlington, Charles City, and Oskaloosa) and will assist Dubuque leaders for the next two years in developing sustainability plans in several areas.
"By taking our students out of the classroom and into the field, these outreach activities help to distinguish urban classroom planning from many other academic programs in the university," said Connerly, who came to the UI from Florida State University, where he was chair of the urban and regional planning department.
Connerly's philosophy for connecting with community leaders starts with learning from the community.
"You cannot go into a community knowing the answer. Part of our job is teaching the students how to learn from the community," Connerly said. "We had students who did class-related work in southeast Iowa City (during the spring semester) and they spent a lot of time listening to people, whether in focus groups or informal interviews. They learned so much, and there's no way we could provide that kind of education in the classroom."
Connerly wouldn't be surprised if he expands the scope of the field problems in planning course.
"I would certainly like to do projects elsewhere in Iowa, and I would really like to do projects outside of Iowa—other places in the Midwest and possibly even overseas," Connerly said. "Western Iowa would be more of a challenge logistically, but we could do it. We couldn't go every week and we might have to do some work on weekends. I think it's important for us to have a presence in western Iowa."