Wednesday, March 31, 2010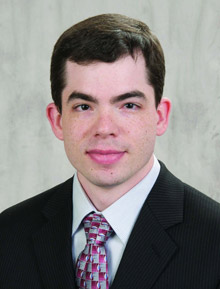 Adam Ziemann views neuroscience as an undiscovered frontier for researchers.
In his quest for knowledge about how the brain works, Ziemann, who earned his Ph.D. in molecular physiology and biophysics and his M.D. at The University of Iowa in 2009, was co-lead author in a UI study that identified a brain pathway that shuts down seizures.
This discovery tied into his dissertation, "Effects of Low pH on Seizures and Fear: A Critical Role for Acid-Sensing Ion Channels," which was honored with a first runner-up distinction in the Council of Graduate Schools CGS/UMI Distinguished Dissertation Award competition for 2009.
This is the nation's most prestigious honor for doctoral dissertations. Iowa has won five national awards, more than any other institution, public or private. Eleven other Iowa nominees, including Ziemann, have been finalists in the competition.
"I feel very fortunate to have worked with such great mentors and people in my lab," said Ziemann, who is in the residency program in internal medicine at The University of Iowa Hospitals and Clinics. "It gives you a great combination of flexibility to work on what interests you and really good guidance and suggestions from people. The level of discourse is very high. People are excited with what they do.
"The nervous system is really complicated. Each project you work on, there are always intriguing implications."
Ziemann was awarded one of the Graduate College's most prestigious dissertation prizes: the D.C. Spriestersbach Dissertation Prize. He was among seven scholars recognized for their exemplary research as graduate students on March 26 during a ceremony on the UI campus.
The Graduate College recognized the winners of the D.C. Spriestersbach Dissertation Prize, Graduate Dean's Distinguished Dissertation Award, and L.B. Sims Outstanding Master's Thesis Award at the event, held in conjunction with the James F. Jakobsen Graduate Conference, organized by the Graduate Student Senate.
Ziemann and Samuel Graber (American studies) received top doctoral honors with the Spriestersbach Prize. Each was awarded $2,500 along with a Graduate College award certificate. The dissertations of Carmen Halabi (genetics), Matthew Miller (English), Alok Shah (molecular and cellular biology) and Elizabeth Sutton (art history) were honored with the Graduate College Dean's Distinguished Dissertation Award. Susan McKernan (dental public health) won the L.B. Sims Outstanding Master's Thesis Award.
Ziemann won the Spriestersbach Prize in biological and life sciences.
Graber, who earned his doctorate in American studies in 2008, won the Spriestersbach Prize in humanities and fine arts for his dissertation "Twice-Divided Nation: The Civil War and National Memory in the Transatlantic World." Graber currently is a lecturer in humanities and English in Christ College at Valparaiso University.